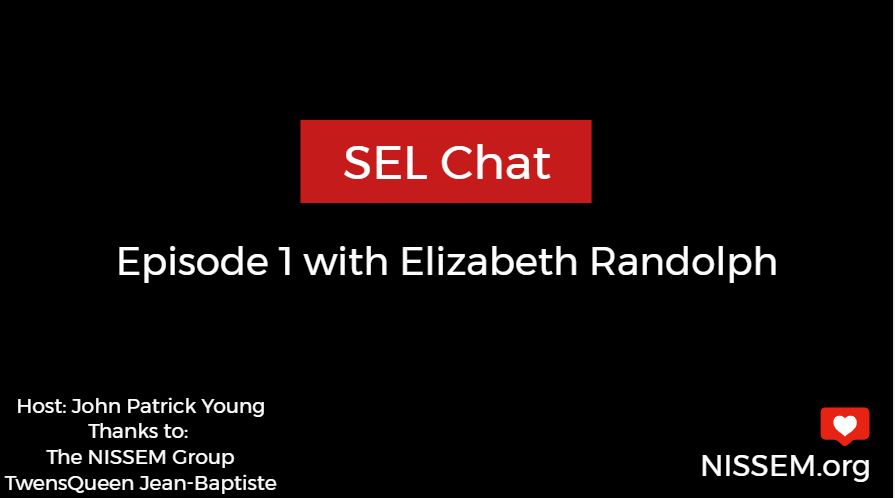 Welcome to SEL Chat!
In this inaugural episode, our host, John Patrick Young, chats with Elizabeth Randolph about her experiences studying the central role of school climate and culture in fostering social emotional learning -or SEL for short - in well-performing schools in Malawi and Uganda.
Dr. Elizabeth Randolph is a Senior Education Research Specialist at RTI International. She has over 30 years of experience in applied research - quantitative and qualitative methods, program management, and institutional strengthening in the broad field of human development and learning, over 25 of which have been in sub-Saharan Africa, including Ghana, Lesotho, Malawi, Namibia, South Africa, Tanzania, Uganda, Zambia, and Zimbabwe. From 2006-2011 she served as the South Africa Regional Director for RTI International. Since 2016, Dr. Randolph's work has focused on tool development, research, and program development to support education systems change related to school culture and climate, social and emotional learning, and prevention of violence against children in schools. Dr. Randolph values awareness-based systems change approaches where a local voice is present in all aspects of design, implementation, and monitoring.
EP2 Karen Murphy, Sean Pettis, Dylan Wray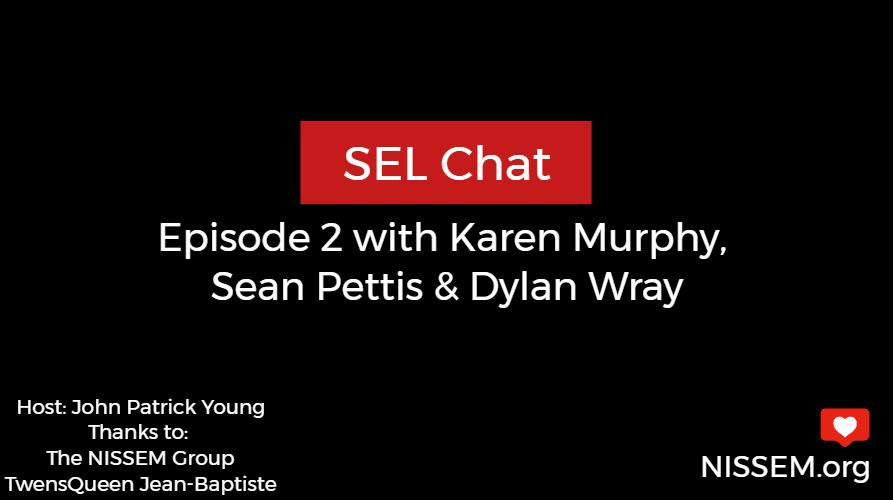 This week on SEL Chat, our host, John Patrick Young, chats with Karen Murphy, Ph.D., Sean Pettis, and Dylan Wray about their work "The citizen within: Supporting teachers to develop their own civic capacity and the development of young democratic citizens". The conversation will span two episodes. Today's episode centers on the position of the outsider and insider in educational development and how the Facing History and Ourselves curriculum guides teachers and students through civic capacity, youth engagement, and the acknowledgement of painful histories within a culture and community.
Dr. Karen L. Murphy, is the Director of International Strategy for Facing History and Ourselves. She oversees Facing History's work and the development of partnerships in countries outside the United States and Canada. She has a special interest in countries emerging from mass violence and/or in transition as well as divided societies with identity based conflicts. She has researched, written about, and worked on the ground in several countries, including Bosnia, Colombia, Mexico, Northern Ireland, Rwanda, France, the United States, and South Africa. Dr. Murphy has also published journal articles, presented papers, and lectured on the often-neglected role of education in transitional justice processes. She is on the board of the Human Dignity and Humiliation Studies Network and the editorial boards of Intercultural Education and Change: Handbook for History Learning and Human Rights Education. She is the co-author of the Children's Report for the Kenya Truth, Justice and Reconciliation Commission and has chapters in the recently published Education and Transitional Justice: Opportunities and Challenges for Peacebuilding and International Perspectives on Peace Education. She is co-director of a multi-year research project, funded by the Spencer Foundation, studying youth and civic development in the U.S., Northern Ireland, and South Africa.
Sean Pettis has over 15 years of experience in the design, delivery, evaluation, and research of community relations and active citizenship programs as both a trainer of educators and a youth work practitioner. He holds a BA Joint Hons in Modern History & Politics and an MSc in Community Youth Work. Sean has previously worked with International Voluntary Service –Northern Ireland, the Community Relations Council, and youth civic engagement initiative, Public Achievement, in a range of roles related to the promotion of Peace and Reconciliation and most recently as part of the Corrymeela team as a Project Coordinator for the 'Facing Our History, Shaping the Future' project, which supports schools in the teaching of sensitive local and global history. The project is delivered in partnership with U.S. based NGO Facing History and Ourselves. Sean is also a board member of TIDES Training –a mediation and conflict management charity.
Dylan Wray is the Executive Director of Shikaya - a South Africa based non-profit civil society organization that supports teachers and school leaders so that young people leave their schools thinking critically and acting as compassionate, engaged, and democratic citizens. Dylan has worked globally as a teacher, facilitator, materials developer, and author, including most recently the book, A School Where I Belong, which outlines six areas where true transformation in South African classrooms and schools can begin. Since 2003, he has partnered with Facing History and Ourselves as project coordinator for Facing the Past - Transforming our Future, a partnership that holds educator workshops and seminars throughout South Africa. This partnership has provided resources and support that has reached thousands of educators, learners, curriculum developers, school leaders, and representatives of civil society organizations country-wide. Dylan has also written about this work, including a focus on the critical role of education to support peacebuilding and transitional justice.
EP3 Karen Murphy, Sean Pettis, Dylan Wray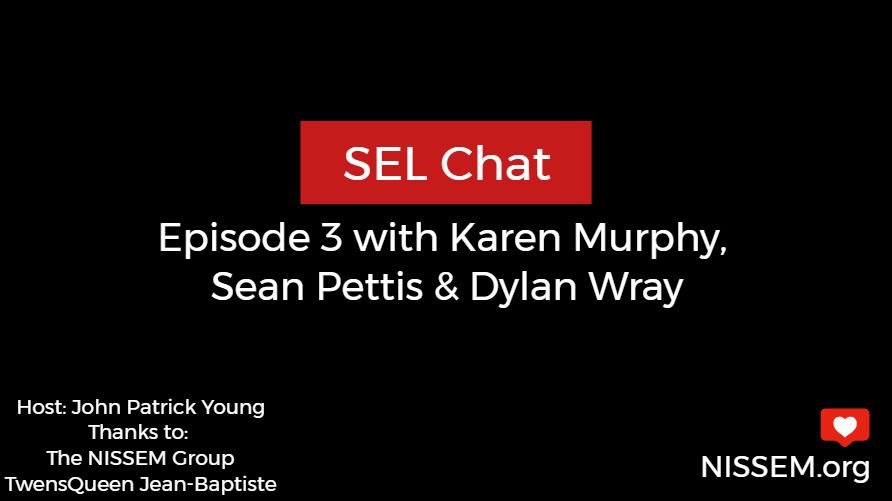 This week, we return to our conversation with Karen Murphy, of Facing History and Ourselves, Sean Pettis, of Corrymeela, and Dylan Wray, of Shikaya. To listen to the first part of this conversation, please visit our website - nissem.org/selchat. Today, we will focus on the importance of context "through Sean's experiences in Northern Ireland and Dylan's experiences in South Africa", the sustainability of the Facing History curriculum, and how the COVID-19 crisis may impact education in the future.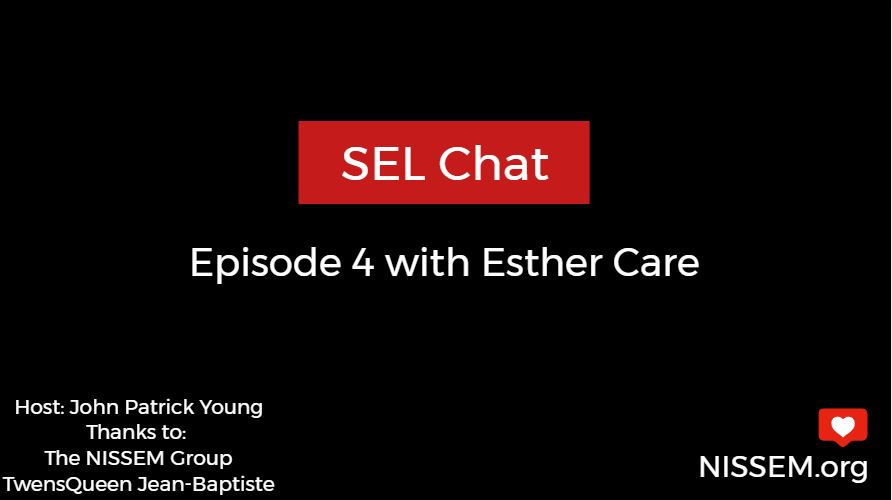 This week, we will be speaking with Esther Care, Pilot Coordinator for Thematic Indicator SDG 4.7.6 at UNESCO Institute for Statistics (UIS) among numerous other positions in education reform linked with assessment and 21st century skills, most immediately in Myanmar and Indonesia about her work "Working towards a common framework for assessing 21st-century skills" available at nissem.org. This week's conversation will focus on assessments for 21st century skills.
Esther Care, a former senior fellow with the Brookings Institution in Washington DC, leads global projects that explore the integration of 21st century skills into national education policy and practice. Beyond focusing on innovative methods for assessment of 21st century skills, Esther explores the implications of introducing these skills into the curriculum for classroom practices and pedagogies. Also a Professorial Fellow at the University of Melbourne in Australia, Professor Care publishes widely in peer reviewed international journals in psychometrics, educational psychology, assessment, and education reform. She has undertaken and researched large scale assessment both in traditional domains of literacy and numeracy as well as newly valued domains such as collaborative problem solving and digital literacies. As the research lead for the Assessment and Teaching of 21st Century Skills project 2010-2013, and the Optimizing Assessment for All project in Asia and Africa 2017-2020 at Brookings, she has expertise in assessment of 21st century skills in high tech environments as well as classrooms in developing classrooms. Now focussed in countries in Asia, Esther is working with national assessment systems in reform processes and integration of 21zt century skills into large scale assessment.
EP 5 Silvia Diazgranados Ferrans, Jamie Weiss-Yagoda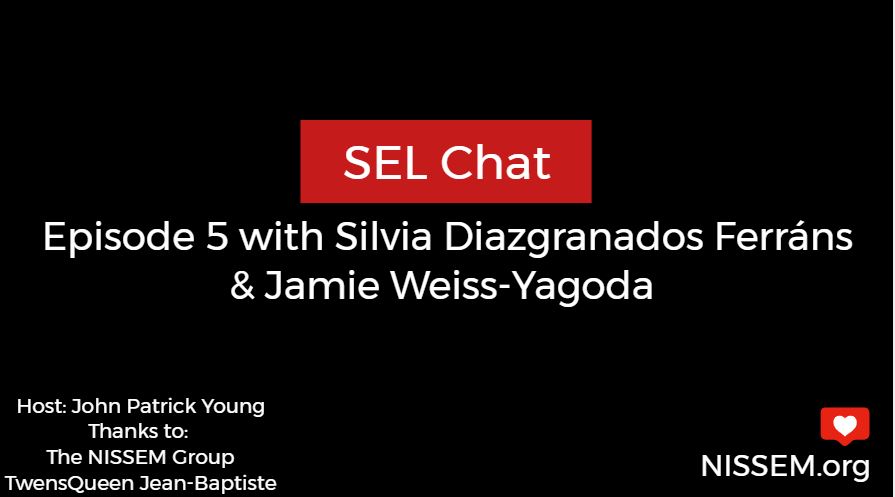 This week on SEL Chat, our host, John Patrick Young, chats with Silvia Diazgranados Ferráns and Jamie Weiss-Yagoda about their work with co-author Carly Tubbs Dolan, titled "Measuring social-emotional learning outcomes for children in crisis: An education in emergencies open-source measurement library". Today's conversation focuses on the creation of SEL assessment tools for low resource and emergency contexts.
Silvia Diazgranados Ferráns, MA, Ed.D is the Senior Education Researcher at the IRC and leads IRC's global education research agenda, managing a portfolio of research projects in 15 countries that aim to identify what works to improve access and learning outcomes for children in emergency settings, for whom, at what cost and under what conditions, and on developing valid and reliable tools to measure these outcomes.
Prior to joining the IRC, Silvia worked at the Harvard Graduate School of Education as the instructor of the course "Peace Education in a Comparative Perspective" and as the external evaluator of impact evaluations of education programs implemented by national and international NGOs. As a clinical and developmental psychologist, Silvia conducted clinical and research work with victims of war and prolonged captivity from the Colombian armed conflict, and supported former child soldiers from guerrilla and paramilitary groups in their process of reintegration to civil society.
Silvia holds an Ed.D in Human Development and Education and a MA in Prevention Science and Practice from the Harvard Graduate School of Education, Cambridge, MA; and BA degrees in Psychology and Philosophy from the University of Los Andes, Colombia. Silvia is the author of several peer-reviewed articles, book chapters and technical reports that explore the effect of education interventions on children's academic and socio-emotional outcomes and the processes that support their development.
Jamie Weiss-Yagoda is a Senior Education Policy Advisor at the International Rescue Committee's (IRC). She previously served as the IRC's Education Program Manager. Weiss-Yagoda holds a Bachelor's degree from Wesleyan University and a Master's in International Educational Development from Teachers College, Columbia University.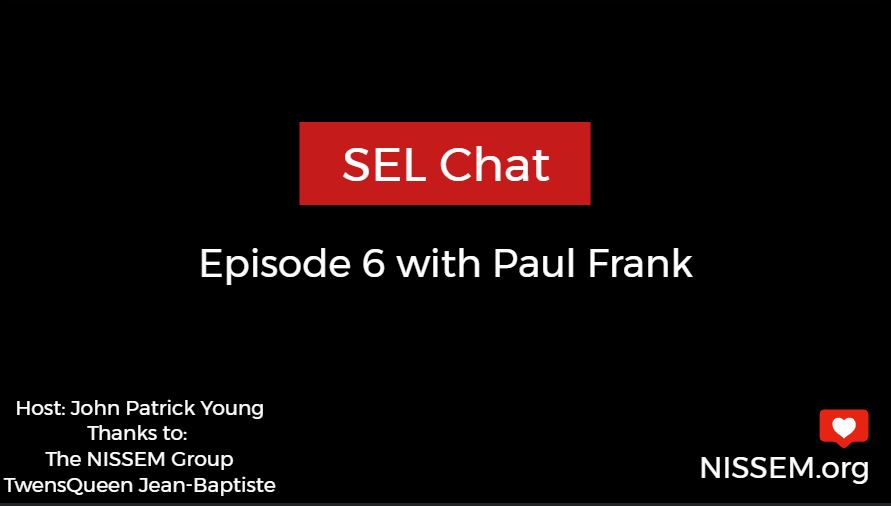 This week on SEL Chat, our host, John Patrick Young, chats with Paul Frank, Executive Director at SIL Lead about using Bloom to put the power of stories into the hands of local authors and the challenges these authors can face when producing children's storybooks with SEL themes in their mother tongue.
Paul Frank is the Executive Director of SIL LEAD, Inc. and a Bloom software expert. He has a PhD in linguistics from the University of Pennsylvania and more than 35 years of experience in supporting communities in the use of their local languages. He lives in Washington DC. He learns from his colleagues constantly, and SEL is one of the most recent additions to his repertoire.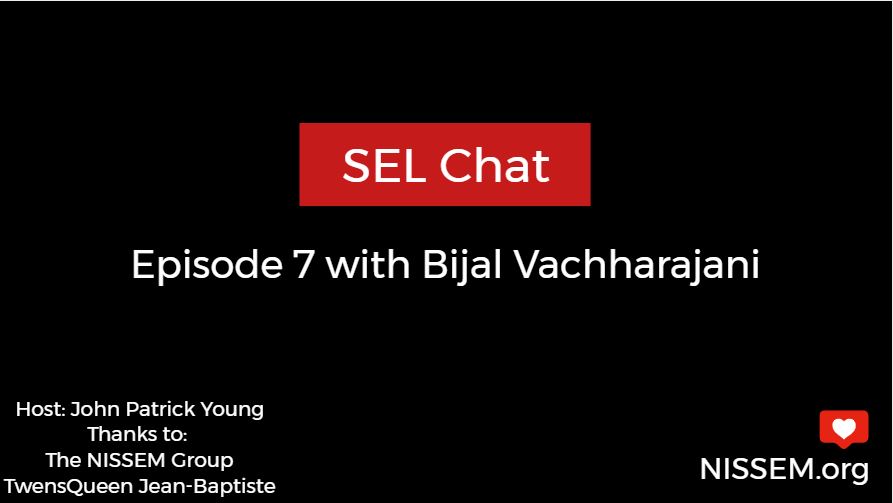 This week on SEL Chat, our host, John Patrick Young, chats with Bijal Vachharajani, Senior Editor at Pratham Books and award-winning children's author about how Pratham Books is helping children discover the joy of reading stories that capture their attention and fuel their imagination. Visit our website via bit.ly/selchat1 to listen.
This episode marks the end of the first season of SEL Chat. We hope you have enjoyed the series! Many thanks to the NISSEM co-conveners, the authors of the Nissem Global Briefs, and of course my colleague TwensQueen Jean-Baptiste who helped bring SEL Chat to you. We would love for you to remain involved both in SEL Chat and NISSEM as a whole.
If you have a proposal, questions, or comments, please feel free to reach out to us through this website and via Linkedin. Stay in touch and thank you for joining us for another episode of SEL Chat!
Bijal Vachharajani is a senior editor at Pratham Books where she leads a team that creates picture books. A journalist with over 19 years of experience in writing, communication, and education for sustainable development, she has a Masters in Environment Security and Peace from the University of Peace in Costa Rica. The former editor of Time Out Bengaluru, Bijal is an award-winning children's author.